Back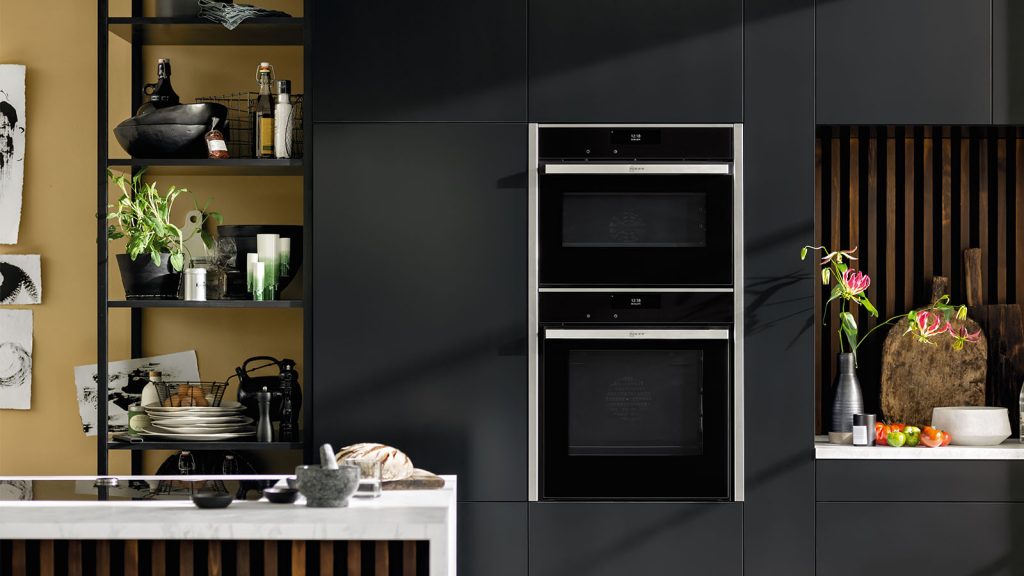 Things you need to consider before purchasing an oven.
Whether you've bought a new home, renovated a kitchen, or need to replace an old appliance, it can be nerve-wracking to start oven shopping with all of the products on the market. Luckily, we've created this helpful NEFF oven buying guide to support your buying journey.
A new oven is an opportunity to freshen up your kitchen, improve your culinary skills and invest in an appliance with all the features to suit your cooking style. But it can be overwhelming if you don't know what you are looking for. That's why we suggest doing some research before you start your shopping journey. 
Here are some things to consider before purchasing your new appliance. 
Do you need an oven with steam capabilities?
To steam or not to steam, that's an important question you should settle early on in your decision-making process as this can help narrow down your options quite quickly. Cooking with steam can ensure soft, tender and nutritious meals are consistently prepared and can also help you to reheat leftovers without drying them out. 
The NEFF oven range offers two types of steam functions: FullSteam or VarioSteam. FullSteam uses 100% steam (that is, steam on its own without any hot air added into the cooking compartment). FullSteam is perfect for things like risotto, vegetables, fish and puddings that need to be delicately cooked.
Then there is VarioSteam, also known as added steam. VarioSteam works by injecting steam alongside conventional hot air cooking. The combination of steam alongside hot hair give dishes the perfect amount of moisture to avoid drying out your cooking, making it great for breads, meats and poultry, and bakes. 
How much oven capacity do you need?
There are actually two sides to this question: firstly the size of the oven, but secondly how many ovens you need.  If you're a big entertainer or have a large family, you may find that two ovens will better suit your needs as it will allow you to cook more at once with varying oven settings. Alternatively, you might be working with very limited space, so a single oven with smaller capacity will suit you just fine. 
The NEFF oven range offers two sizes of ovens: Fullsize and Compact.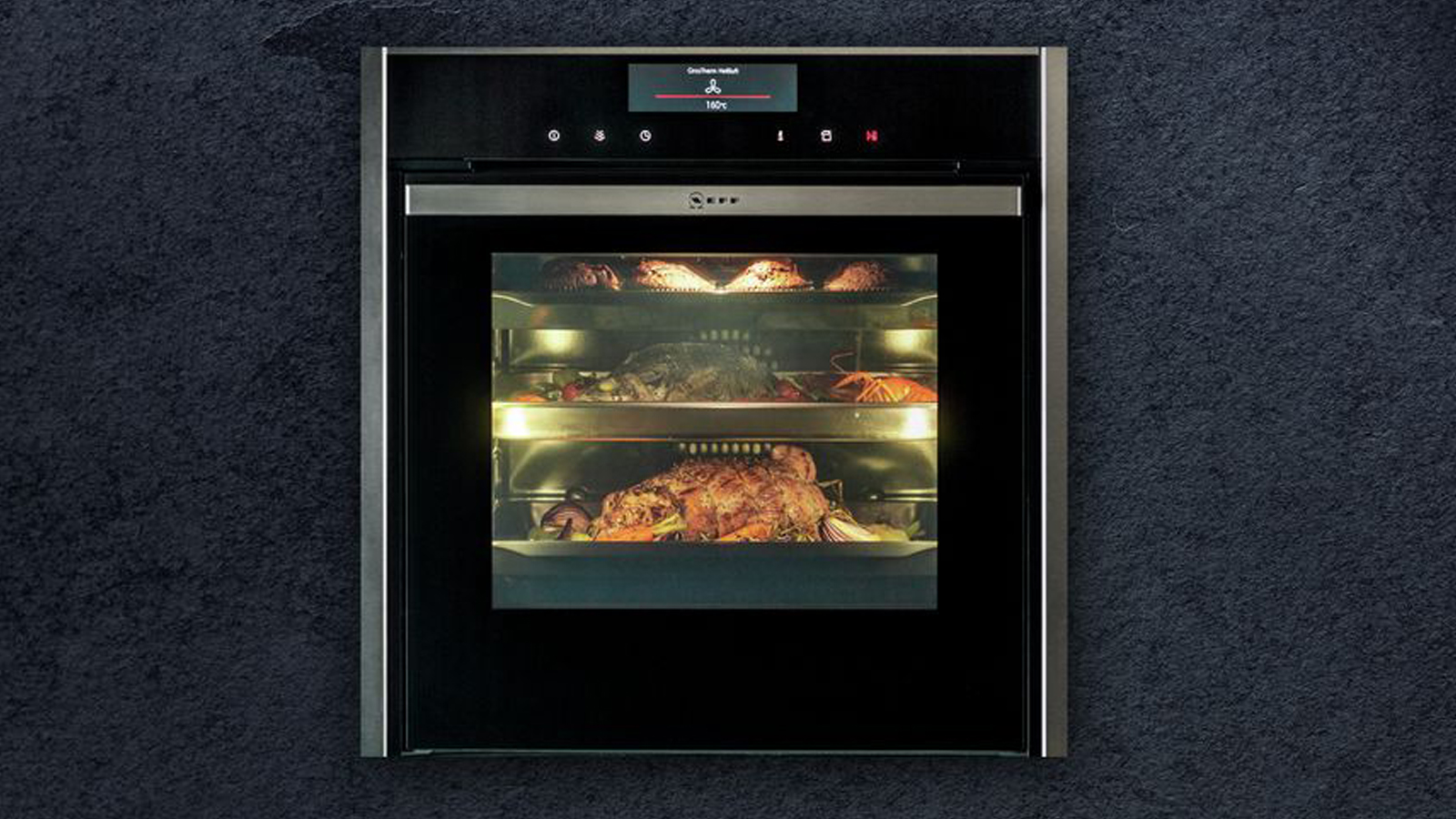 Fullsize ovens are 60cm high by 60cm wide. This is a common size for most standard ovens and should be able to replace most existing in-built appliances. 
Compact ovens are 45cm high by 60cm wide. The shorter height makes them the perfect stacking partner, particularly for in-built appliances in a vertical space.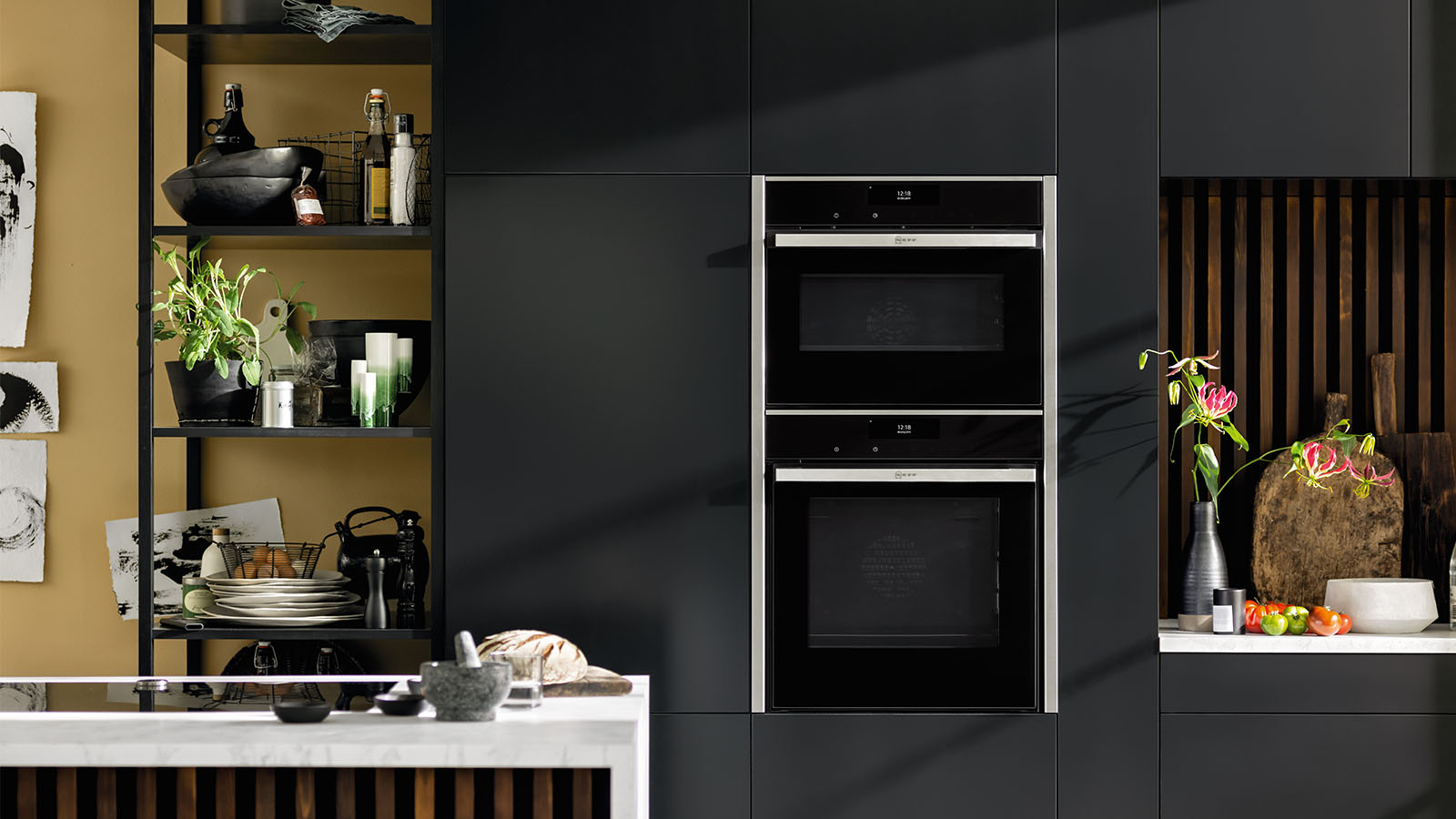 The compact oven can also be stacked on top of a fullsize oven, giving you the option of two ovens while requiring less space than two fullsize ovens side-by-side. 
What cleaning functionality would you like?
While a little bit of elbow grease and a soft, damp cloth never goes astray when it comes to regularly cleaning your oven, there's no denying that a little bit of clever tech can make a world of difference. But there are different types of cleaning functions available in NEFF ovens: Pyrolytic and 'Easy Clean'. 
Pyrolytic cleaning also known as 'self-cleaning' superheats the oven to approximately 485°C, which burns off any deposits from baking, roasting and grilling. Simply set the program and you can walk away while it does the work –  the oven is locked during the cleaning process and will automatically switch off once cleaning is complete.  
There are three pyrolytic cleaning programs available, taking 75 minutes, 90 minutes and 120 minutes respectively. Once it is finished, you can wipe the inside with a soft, damp cloth for the ultimately clean finish.
EasyClean is a cleaning assistant which is best used regularly and in a lightly soiled oven. Just pour approximately 400ml of water and a drop of washing-up liquid onto the oven compartment floor and then select the EasyClean® program to get to work. 
 
What other 
functions
 are important to you?
NEFF ovens have other unique and helpful features that can make your dinners better and easier to prepare. If you have your eye on a particular product feature, that can help you narrow down your selection further. Here are some of our most common requests: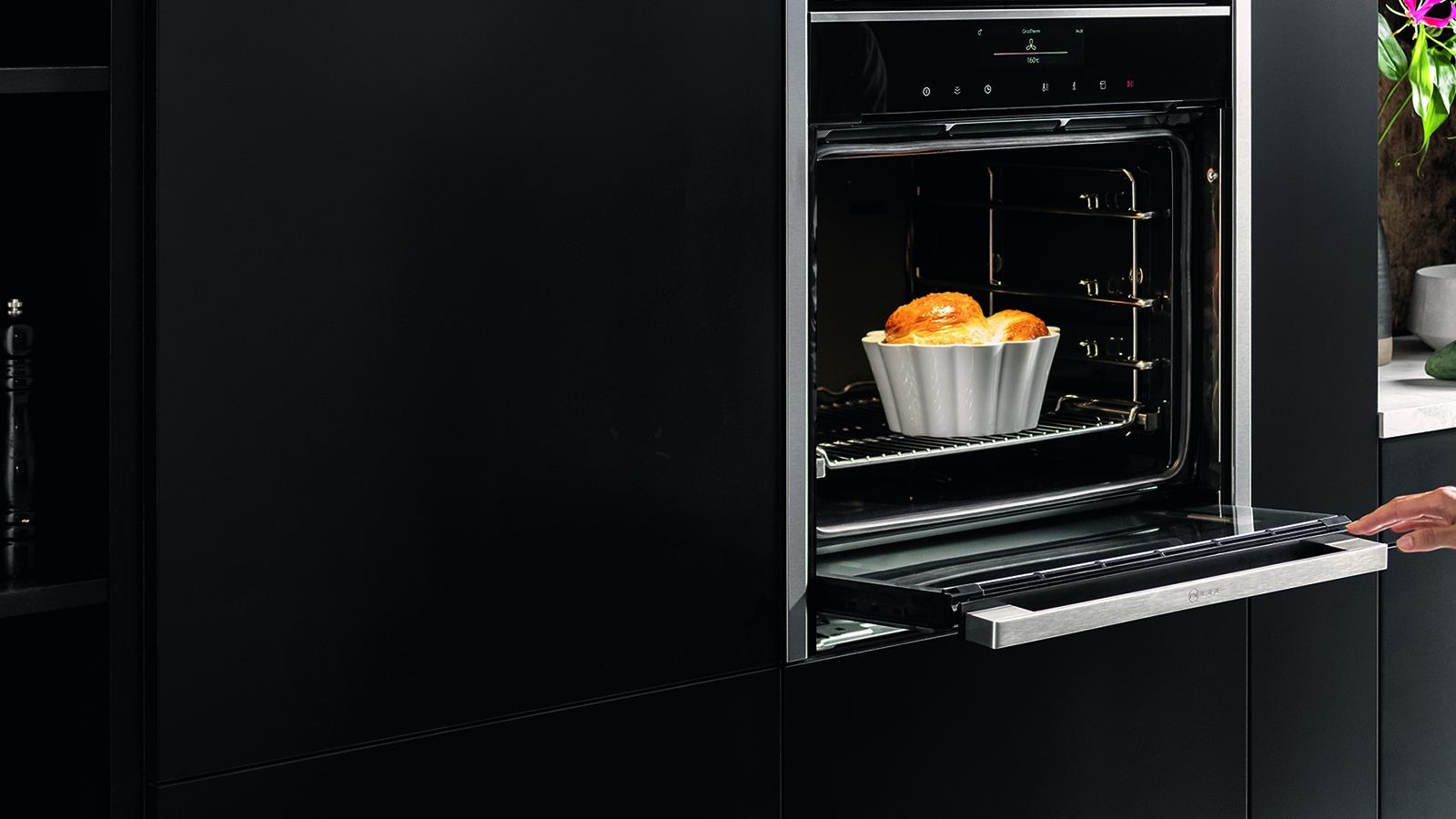 Slide&Hide®
The fully retractable Slide&Hide® oven door disappears under the 71L oven cavity to provide plenty of room to move about. Slide&Hide® ovens come with a rotating handle that glides with your natural hand movement to make the process of opening and closing the door smooth. 
You can experience better access to the oven cavity, providing an easy and flexible approach to cooking – helping you to baste and taste to your heart's desire. It is ideal for small kitchens needing to save space.
MultiPoint MeatProbe  
The MultiPoint MeatProbe has 3 unique sensors to continually measure the core temperature of your meat, always taking the lowest temperature to ensure the maximum result. Simply set the core temperature based on the finish you would like (e.g. 62°C for medium rare beef) and watch your oven do the hard work of preparing your dinner for you. Once the ideal temperature has been reached, the appliance will enter warming mode to avoid over-cooking. 
Still not sure what you need? 
For more information about the product range or how they could suit your needs, simply get in touch with a NEFF consultant to see how they can help NEFF improve your kitchen and cooking experience. 
If you're based in Melbourne you may also be able to visit the NEFF showroom for a hands-on demonstration of the product range. 
___________________________________________________ 
About NEFF
NEFF is a German-engineered kitchen appliance brand, with a product range that includes ovens, cooktops, rangehoods, coffee machines and dishwashers designed to make life in the kitchen a daily pleasure. For people who love to cook, NEFF gives you the tools to creative meaningful connections, express your creativity and make memories. Because real life happens in the kitchen.  
Learn more about NEFF here.