Loaded Massaman Potato Wedges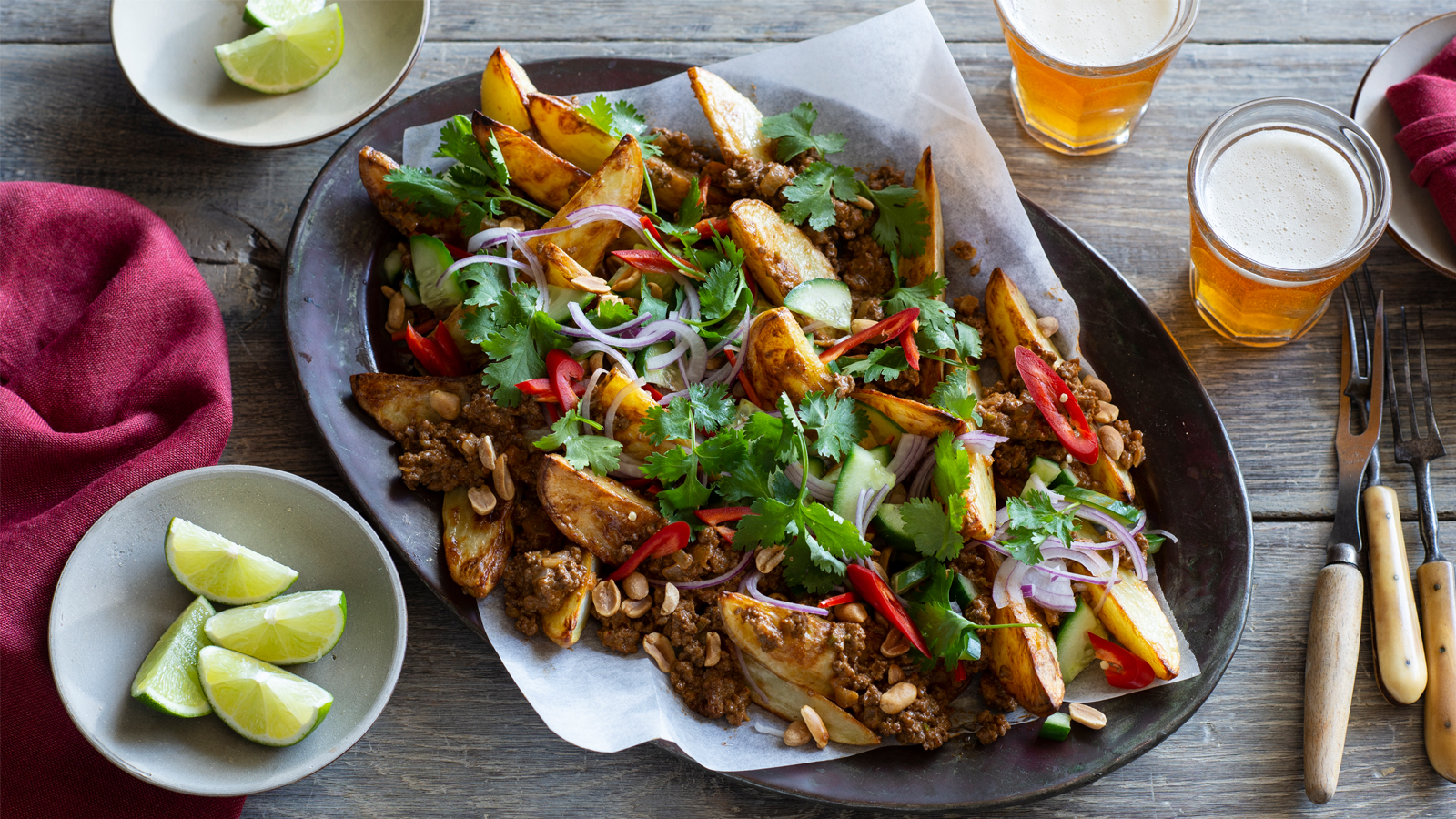 Whether you're looking for an appetiser or an afternoon snack, these loaded massaman potato wedges will hit the spot.
Ingredients
1 kg new potatoes, cut into wedges
1 – 2 tbsps peanut oil
Massaman Curry
2 tsps peanut oil
1 small onion, chopped
300g minced beef
2 tbsps massaman curry paste
1 tbsp chopped coriander stem
1 ½ tsps tamarind paste
1 ½ tsps palm sugar
1 tsp fish sauce
¼ tsp cinnamon
150ml coconut milk
1 tbsp lime juice
Suggested toppings
Coriander leaves
Sliced red onion
Finely chopped deseeded cucumber
Roasted peanuts, chopped
Long red chilli, sliced
Lime wedges
Method
Preheat oven on CircoTherm to 200˚c. 
Place the potato wedges into a bowl with the oil. Toss well to coat, then place in a single layer on a universal tray that has been lined with baking paper. 
Place the tray on level three and cook for 40 to 45 minutes or until golden and cooked. 
While the potatoes are cooking make the Massaman Curry. 
Heat a large frying pan on a high heat, induction level 8. Add oil, then the onion and  fry for one minute.
Add beef to the pan and cook, stirring constantly until beef is well browned. Add the curry paste and continue to cook for a further 1 to 2 minutes.
Add remaining ingredients, mix well to combine and bring to the boil. Reduce heat to medium low, Induction level 3 then cover and simmer gently for 15 minutes. 
Spoon Massaman mix over the wedges and serve with suggested toppings.