Back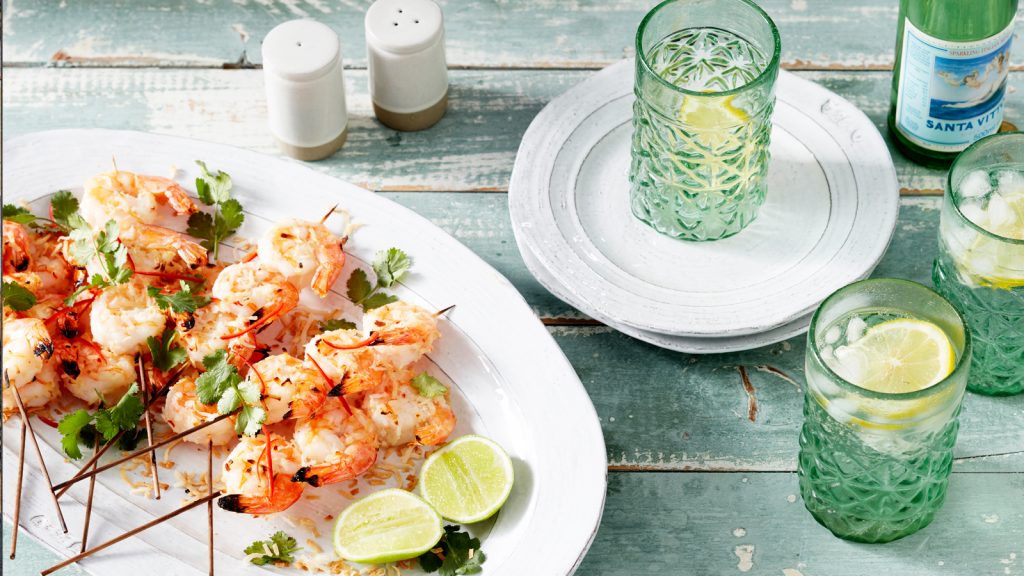 Serves:

10-12 serves

Prep time:

30 minutes

Cooking time:

5-8 minutes

Resting Time:

1 hour

Level of Difficulty:

Easy

Function:

full surface grill
Ingredients
| | |
| --- | --- |
| | 200 g coconut milk |
| | 1 stalk lemongrass, roughly chopped |
| | 1 clove garlic, roughly chopped |
| | 2 Birdseye chilli, roughly chopped |
| | 1 tsp fish sauce |
| | 2 tsp brown sugar |
| | 75 g desiccated coconut |
| | 2 eggs |
| | 1 kg medium sized prawns (approx. 30 per kg), peeled, tailed and deveined |
| | Bamboo skewers |
| | 2 limes, cut into wedges |
Throwing a prawn on NEFF's grill is just too easy. This is a great dish to prepare ahead and it will be a hit at your Christmas and New Year celebrations.
Method
Place the coconut milk, lemongrass, garlic, chilli, fish sauce and brown sugar into a blender and puree until smooth. Remove from the blender and place into a medium bowl. Add the eggs, prawns and desiccated coconut, mix together and marinate for 1 hour.
Soak bamboo skewers in water for 1 hour then thread 3 prawns on to each skewer.
Heat the grill on Full Surface to 250⁰C. Line universal tray with baking paper and top with wire rack. Place the skewers on a wire rack and place in oven on shelf level 4. Cook for 2-4 minutes or golden, each side. Serve immediately on a platter with lime wedges.
Notes
The prawn size used for this recipe is U15. This means there are 30 prawns per kilogram. Using larger or smaller prawns will affect the cooking time. The tails are removed to prevent burning and to make the skewers easier to eat.
Authors Bio:
Warren is a chef with over 20 years of cooking experience, ranging from Michelin Star Restaurants to 5 star Hotels. He is highly passionate about embracing technology to create food that is visually stunning, tasty and packed with a whole lot of nutritional goodness.
More from this author