Back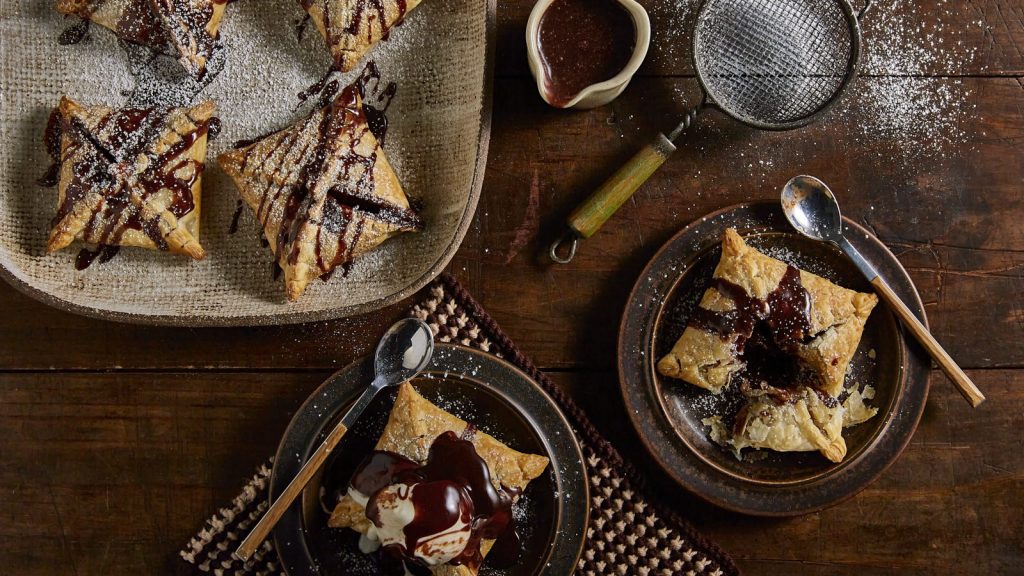 Serves:

6

Prep time:

30 Minutes

Cooking time:

18 minutes

Level of Difficulty:

Easy

Function:

CircoTherm®
Ingredients
| | |
| --- | --- |
| | 200g dark chocolate melts |
| | 1/2 cup cream |
| | 3 sheets butter puff pastry, thawed |
| | 2 bananas, sliced |
| | Ice cream, for serving |
| | Icing sugar, for dusting, if desired |
Looking for a quick and delicious winter dessert? Look no further than our Chocolate and Banana Puffs - sweet parcels of flavour! Serve with a chocolate drizzle and a big scoop of ice cream for something special.
Method
Preheat the oven CircoTherm® 200°C.  
Place the chocolate into a bowl. Heat the cream in a saucepan induction setting 6, bring the cream just to the boil then pour onto the chocolate and stirring well until melted and smooth. Chill until firm enough to spread. 
Cut each sheet of pastry into 4 even squares. Place a teaspoon of the chocolate mix into the centre of a square of pastry and top with 3 slices of banana. Bring each corner of the pastry up toward the centre and join together in the centre. Carefully pinch together the four edges to seal in the filling then place on a greased universal tray (see note). Repeat with remaining pastry, chocolate and banana to make 12 puffs. 
Bake the puff for 12-15 minutes or until golden (you may find a little chocolate will leak out). Meanwhile heat the remaining chocolate mixture in a saucepan induction setting 2, stirring until the chocolate becomes warm and sauce consistency. 
Place the hot puffs onto serving plates, serve with ice-cream a drizzle of the chocolate sauce and a dusting of icing sugar. Serve immediately. 
Notes
Note: Once the edges of pastry are sealed for the puffs, use sharp scissors to make 4-6 small slits in the sealed edges. This will provide a decorative edge to the pastry once baked.
Authors Bio:
As an experienced home economist and Food Designer Trish has worked over the span of her career in the food and home appliance industry as a demonstrator, teacher, recipe developer and food stylist. For more than 20 years she worked for and later managed the test kitchen for a large FMCG company working on some of Australia's most trusted and iconic food brands, developing recipes and usages for their products as well as styling mouth watering images for cookbooks and websites. She has also appeared regularly as a brand ambassador on a number of well loved television cooking shows.
More from this author