Back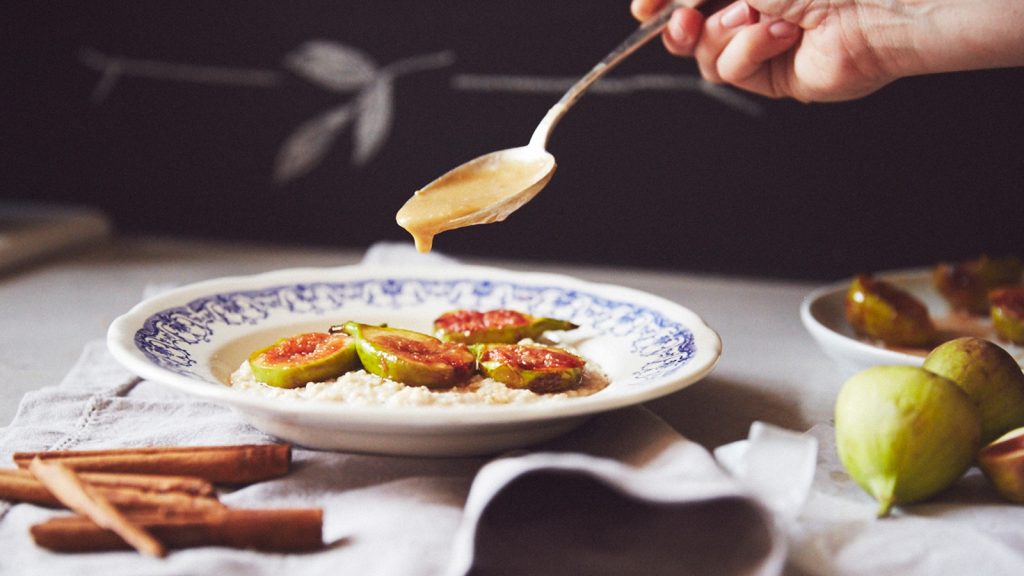 Serves:

6

Prep time:

10 Minutes

Cooking time:

30 minutes

Level of Difficulty:

easy
Ingredients
Dry Ingredients
| | |
| --- | --- |
| | 2 cups oat flakes |
| | 2 cups water |
| | 2 cups milk |
| | ½ - 1 tbsp ground cinnamon |
| | 50 g butter |
| | 2 full tbsp musvocado sugar (barbados sugar) |
| | 1 - 2 pinches salt |
| | 6 fresh figs, halved |
| | 180 g double cream |
We use Australian tablespoons and cups: 1 teaspoon equals 5 ml; 1 tablespoon equals 20 ml; 1 cup equals 250 ml. All herbs are fresh (unless specified) and cups are lightly packed. All vegetables are medium size and peeled, unless specified. All eggs are 55–60 g, unless specified.
Ever wake up and fancy porridge? Start your morning in style and indulge in this incredible caramelized fig good-ness & of course don't forget the double cream.
Method
Boil up oat flakes with water, milk and cinnamon at medium heat. Allow to simmer for five minutes and keep stirring until the porridge is as thick as you like it. Add some milk if it is too firm.
Melt butter and sugar in a non-stick saucepan until it starts caramelising. Add salt and sauté the figs on both sides. Remove figs and place them on a plate. Add two tablespoons double cream to the caramel and boil up.
Prepare small bowl or plates with the porridge, garnish with caramelised figs, caramel and serve with another dollop double cream. Garnish with ground cinnamon to your liking.
Notes
If fig doesn't take your fancy substitute it with caramelised peach.