Back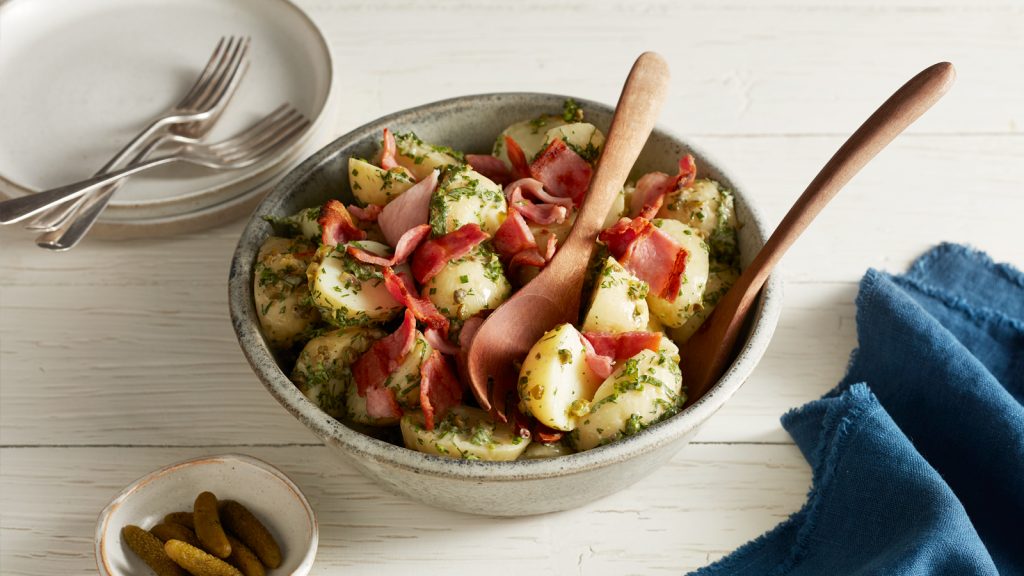 Serves:

6-8 servings

Prep time:

20 minutes

Cooking time:

30 minutes

Level of Difficulty:

Medium

Function:

FullSteam and Steam Programs
Ingredients
Mayonnaise
| | |
| --- | --- |
| | 1 egg, at room temperature |
| | 1 tsp Dijon mustard |
| | 2 tsp lemon juice |
| | 1 tsp warm water |
| | 125 ml canola oil or light olive oil |
| | Salt and black pepper |
Salad
| | |
| --- | --- |
| | 1 kg baby chat potatoes, washed and halved |
| | 5 rashers of bacon, rind removed |
| | 1 shallot, finely chopped |
| | 2 tbsp chopped fresh dill tips |
| | 2 tbsp chopped fresh chives |
| | 1 tbsp chopped fresh mint |
| | 10 cornichons, drained and finely chopped |
| | 2 tbsp baby capers, drained and chopped |
| | Salt and black pepper |
A classic potato salad is welcome at any party. It's easy to prepare with FullSteam and can be made in advance. Making the mayonnaise will have everybody asking for the recipe. Cooking the egg yolk makes the mayonnaise better for hot weather and picnics.
Method
Place egg in the perforated stainless steel tray and place in FullSteam oven. Select Steam Programs > Speciality Dishes > Soft Boiled Egg and press start. Allow egg to cool for 5 minutes.
Place potatoes on the large perforated stainless steel tray and place in FullSteam Oven. Select Steam 100⁰C and cook for 20 minutes or until cooked. Rinse potatoes with cold water and allow to drain and cool.
In a bowl of a small food processor add the mustard, lemon juice and water. Carefully remove the shell from the egg and place only the egg yolk into the food processor bowl. Blend to combine and with the motor running slowly add the oil. Season to taste with salt and pepper. Set aside.
Preheat oven on Grill, large area to 250⁰C. If using the FullSteam oven, wipe oven interior to remove excess water. Place wire rack on the enamel tray and grill bacon until golden and crisp, cooking on both sides. Allow bacon to cool on paper towel.
In a large serving bowl add the shallot, herbs, cornichons, capers and potatoes. Dress with as much of the mayonnaise as you like and stir until well combined. Roughly chop bacon and top salad.
Authors Bio:
As a trained Home Economist and Chef, Fransje knows that good cooking comes from confidence in the kitchen. With 27 years of industry experience, Fransje can help you decode the appliance manual and share some delicious dishes.
More from this author