Back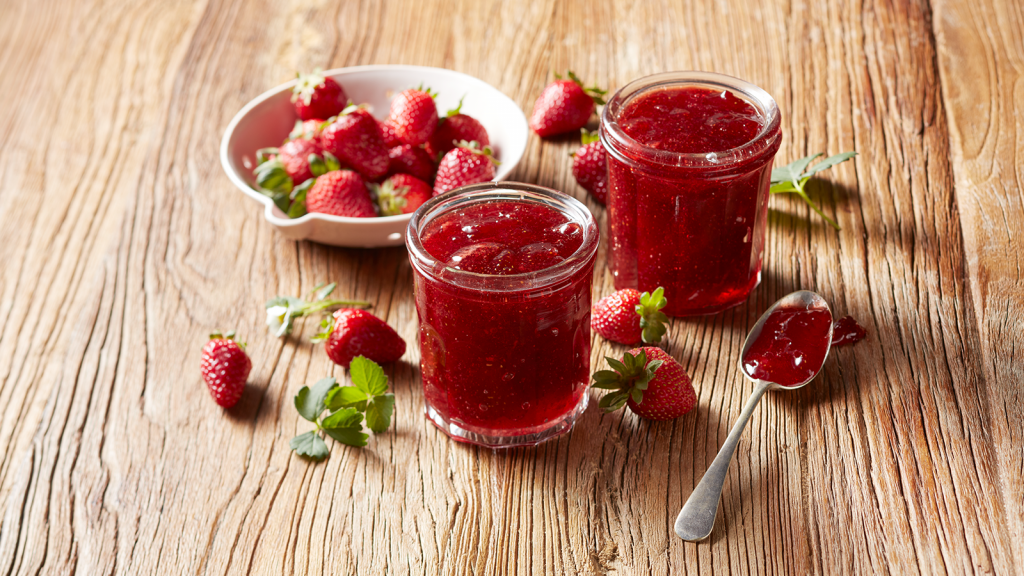 Serves:

3 – 4 medium jars

Prep time:

10 minutes

Cooking time:

Approximately 40 minutes

Resting Time:

Approximately 40 minutes

Level of Difficulty:

Easy
Ingredients
Strawberry jam
| | |
| --- | --- |
| | 1 kg strawberries |
| | 1 kg white sugar |
| | Juice of 2 large lemons |
How to sterilise jam jars
Wash the jars and use one of the following techniques. Remember the jars are placed upside down:
- Oven – select Top and Bottom heat (conventional) to 120⁰C, place jars and lids (non-plastic) on an enamel tray lined with baking paper and heat in oven for 20 minutes. Remove jars when ready to fill.
- Dishwasher -place jars, rubber seals and lids in the dishwasher and select the hottest cycle.
- FullSteam – select FullSteam 100⁰C and steam jars, rubber seals and lids for 10 minutes. Open oven door and allow jars to dry.
Summer weekends are for spending time in the sunshine with friends. Picnics, tea parties, lazy luncheons and brunches are quickly filling up our new year calendars, and we know just the thing for the table centrepiece: homemade strawberry jam – perfect for scones, toast or sponge cake treats.
But how do we make it, and make it perfect, every time? We called on our NEFF chef Fransje Garland-Frost for her perfect strawberry jam recipe – surprisingly easy to make and sure to sweeten up your summer. It's best made at the peak of the strawberry season when strawberries are ripe and fragrant. Remember, this recipe doesn't use pectin or jam sugar so it maybe a little bit runnier than the store bought jam, but keeping the open jar in the refrigerator will help to give a thicker texture
Method
Wash strawberries and allow to dry. Hull the strawberries and cut large strawberries in half. Place the strawberries, sugar and lemon juice into a large preserving saucepan and gently stir to combine. Cover the saucepan and leave stand overnight. If time poor, allow strawberries to stand for at least two hours.
Place a saucer in the freezer in preparation for checking the setting of the jam. A jam thermometer can be used and the desired setting temperature will be 105⁰C. If cooking the jam on a ceramic glass cooktop have a damp cloth handy to clean up any splatter.
Remove the cover from the saucepan and place the pan over a low heat and stir gently until all the sugar has dissolved. Increase the heat to high and boil the jam rapidly. Stir the jam occasionally to ensure the jam is not sticking to the bottom of the saucepan. Boil for 10-20 minutes or until the jam reaches 105⁰C. Spoon a little jam onto the frozen saucer and leave for 1 minute, if the jam wrinkles when a finger is pushed through the middle, it is ready. Keep boiling if it is not set and check again in 2 minutes. Stand the jam for 3 minutes before bottling.
Ladle the jam into hot, sterilised jars (see notes on how to sterilise the jars), cover jars with a piece of baking paper and cool completely before sealing the jars.
Notes
Fransje's top tips
The oven temperatures given are for conventional ovens; if using fan-forced (convection), reduce the temperature by 20˚C. Also remember that we use Australian tablespoons and cups: 1 teaspoon equals 5 ml; 1 tablespoon equals 20 ml; 1 cup equals 250 ml. All herbs are fresh (unless specified) and cups are lightly packed. All vegetables are medium size and peeled, unless specified. All eggs are 55–60 g, unless specified.
Authors Bio:
As a trained Home Economist and Chef, Fransje knows that good cooking comes from confidence in the kitchen. With 27 years of industry experience, Fransje can help you decode the appliance manual and share some delicious dishes.
More from this author