Back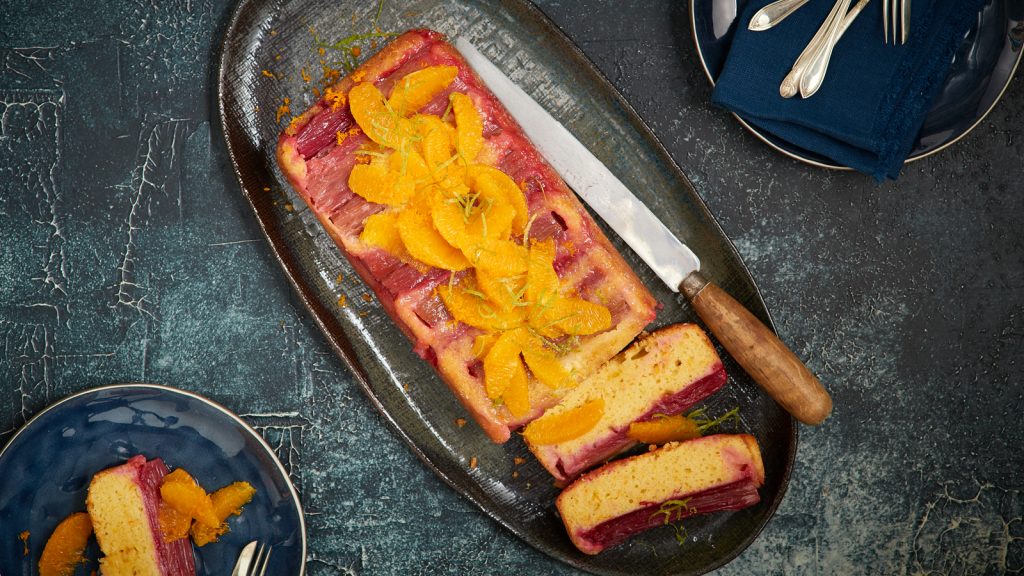 play
Serves:

6-8

Prep time:

15 minutes

Cooking time:

35 minutes

Resting Time:

30 minutes

Level of Difficulty:

easy

Function:

NEFF's CircoTherm® VarioSteam
Ingredients
| | |
| --- | --- |
| | Non-stick canola cooking spray |
| | 1 cup caster sugar + 2 tbsp extra |
| | 2 tbsp fresh orange juice |
| | 250g trimmed rhubarb |
| | 1 ½ cups plain flour |
| | 2 tsp baking powder |
| | 1 lemon, zest finely grated |
| | 2 oranges, zest finely grated, pith removed, segmented |
| | 3 large eggs, room temperature |
| | ½ tsp sea salt flakes |
| | ¼ cup milk |
| | ¾ cup extra-virgin olive oil |
This cake is deliciously moist due to the addition of steam in the cooking process. The jewelled colours of the citrus and rhubarb make a stunning topping when the cake is inverted.
Method
Preheat oven to 160°C CircoTherm, low steam.
Line a 12cm x 26cm rectangular loaf tin with baking paper and spray with non-stick cooking spray.
Sprinkle 2 tablespoons caster sugar over the base of the tin and add 2 tablespoons of orange juice. Cut rhubarb into 12cm lengths and line the base of the tin, packing tightly.
In a medium bowl, whisk the flour and baking powder together. Set aside. In the bowl of a stand mixer, combine the sugar, lemon and orange zests. Add the eggs and salt. Beat on medium-high speed for about 5 minutes, or until pale and thick. Beat in the milk. Gradually beat in the oil. Using a wooden spoon, fold in the flour mixture until blended. Let the batter rest, covered, for about 10 minutes. Spread the batter over the rhubarb in the cake tin.
Bake for 35 minutes, or until a wooden toothpick inserted into the centre of the cake comes out with moist crumbs attached. Cool in the pan on a wire cake rack for 10 to 15 minutes, and then invert the cake onto a cake plate. Scatter over the orange segments and serve.
Notes
This recipe uses the NEFF CircoTherm and VarioSteam functions. We use Australian tablespoons and cups: 1 teaspoon equals 5 ml; 1 tablespoon equals 20 ml; 1 cup equals 250 ml. All herbs are fresh (unless specified) and cups are lightly packed. All vegetables are medium size and peeled, unless specified. All eggs are 55–60 g, unless specified.
Photography by Steen Vestergaard. Styling by Caroline Velik.
Authors Bio:
Caroline Velik is acknowledged as one of Australia's leading commercial food stylists and has worked with many of Australia's head chefs. As a food writer, she develops, tests and writes recipes, and has worked as Food Editor for a leading lifestyle magazine and as a regular, popular recipe contributor and columnist for a national newspaper. She is passionate about using fresh, seasonal ingredients to create delicious recipes that you will continue to cook again and again.
More from this author