Back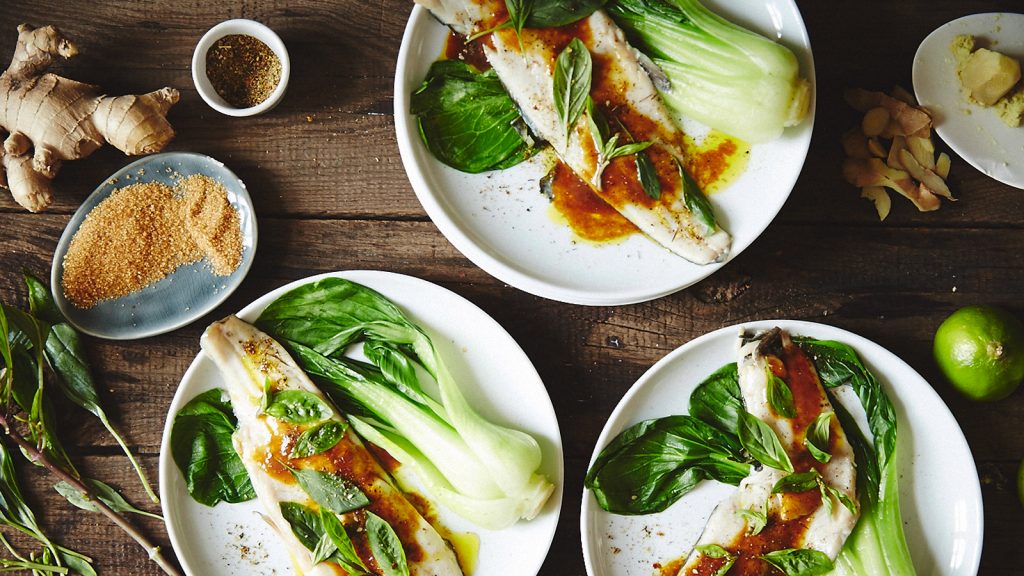 Serves:

4

Prep time:

10 Minutes

Cooking time:

15 minutes

Level of Difficulty:

easy

Function:

FullSteam
Ingredients
| | |
| --- | --- |
| | 60 g butter |
| | ½ finely ground ginger |
| | 1 tsp yellow thai curry paste |
| | 1 tsp brown sugar |
| | 1 tbsp soy sauce |
| | 2 tbsp lime juice (and a bit of zest) |
| | 8 trout fillets with skin |
| | 8 kaffir lime leaves |
| | 1 bunch of Thai basil leaves |
We use Australian tablespoons and cups: 1 teaspoon equals 5 ml; 1 tablespoon equals 20 ml; 1 cup equals 250 ml. All herbs are fresh (unless specified) and cups are lightly packed. All vegetables are medium size and peeled, unless specified. All eggs are 55–60 g, unless specified.
From salads and soups to stir-fried dishes and curries, kaffir lime leaves are an essential ingredient for the Thai cuisine. With their distinctive lime-lemon aroma and flavour they give Thai dishes the special lemony essence they need.
Method
To make the hot butter sauce, melt the butter in a small pot on medium heat. Add ginger, curry paste, sugar, soy sauce, lime juice and zest. Allow to boil up.
Meanwhile place the kaffir lime leaves in a solid steam tray and add trout fillets with the fish skin on the bottom side. Cook with FullSteam at 80˚C for four minutes on shelf position 2. Turn off the oven and allow another five minutes subsequent cooking. Take off the skin and place the fish on pre-heated plates.
Add a few drops of the hot butter sauce and garnish with basil leaves. Season with fish spice salt (or herbal salt) and serve immediately.
Notes
Kaffir lime leaves are sold fresh, frozen, or dried at Thai or Vietnamese food stores (sometimes also Chinese food stores carry them). Fresh or frozen leaves are the more flavourful choice and since they freeze well, one package will easily last you for a year or longer.