Back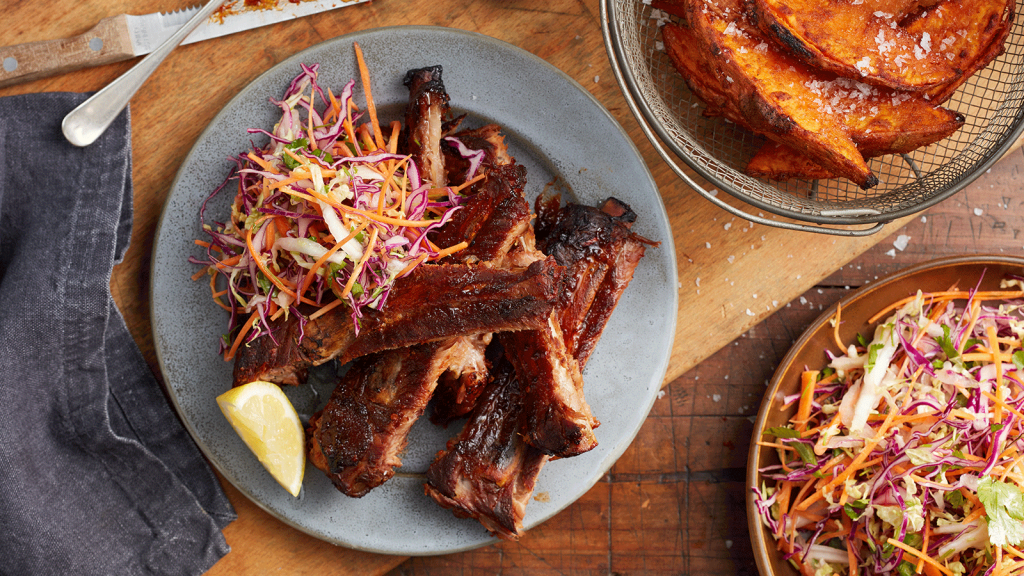 Serves:

4

Prep time:

10 minutes

Cooking time:

Approx. 2 ½ hours

Level of Difficulty:

Easy
Ingredients
1 small red onion, peeled and roughly chopped
2 garlic cloves, peeled and halved
½ tsp dried chilli flakes (or more to taste)
1 tsp smoked paprika
1 tsp fennel seeds
Pinch of star anise
100 g brown sugar
2 tbsp olive oil
200 g tomato sauce/ketchup
2 tbsp cider vinegar
2 tbsp soy sauce
1.25kg pork ribs
Let your sticky fingers be the guide for how delicious and tender these pork ribs are! Ribs are great for a family meal or entertaining.
Method
Place onion, garlic, chilli flakes, paprika, fennel seeds, star anise and brown sugar in a bowl of a food processor and process until smooth.
Heat a saucepan over medium heat, add the olive oil and onion paste and cook for 2 minutes. Add the tomato ketchup, vinegar and soy sauce and cook for 5 minutes or until the sauce thickens.
Line enamel tray with baking paper. Place ribs on tray and brush the ribs with all of the sauce. Place ribs in the oven and lay a piece of baking paper loosely on top. Turn oven on to CircoTherm® at 140⁰C with a high level of steam. Cook for 1 ¾ to 2 hours, turning once. The time will depend on when the ribs are tender. When the ribs are tender, increase CircoTherm® to 180⁰C with no added steam and remove baking paper. Cook for up to 30 minutes or until ribs are golden and sticky.
Remove the ribs from the oven and allow to cool for 5 minutes. Cut ribs using the rib bones as a guide.
Notes
If VarioSteam is not available, cover the ribs with aluminium foil when cooking for the first 2 hours. Remove the foil for the last 30 minutes.
Authors Bio:
As a trained Home Economist and Chef, Fransje knows that good cooking comes from confidence in the kitchen. With 27 years of industry experience, Fransje can help you decode the appliance manual and share some delicious dishes.
More from this author