Back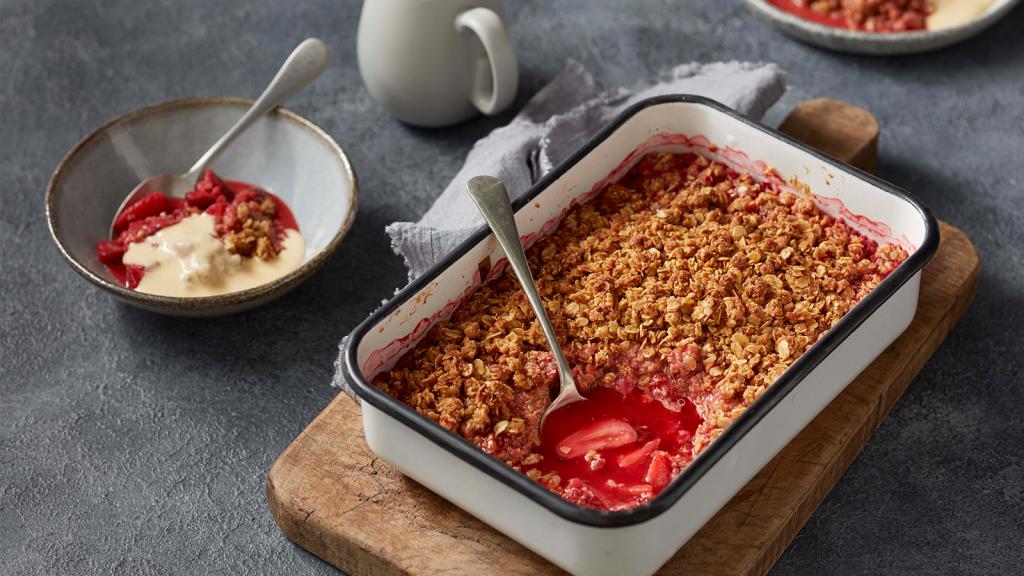 Serves:

8

Prep time:

15 minutes

Cooking time:

45 minutes

Level of Difficulty:

Easy

Cuisine:

Traditional

Function:

Top / Bottom Heating
Ingredients
Crumble
| | |
| --- | --- |
| | 250 g oats |
| | 250 g brown sugar |
| | 90 g plain flour |
| | ½ tsp ground cinnamon |
| | ½ tsp ground cardamom |
| | ½ tsp ground fennel |
| | 160 g butter, melted |
Strawberry mix
| | |
| --- | --- |
| | 5 punnets strawberries, hulled and cut into quarters |
| | 50 g caster sugar |
| | Seeds from 1 vanilla pod or 1 tsp vanilla paste |
| | Juice and zest of 1 lemon |
| | ¼ bunch mint |
| | ¼ bunch basil |
| | 50 ml strawberry liqueur |
This strawberry crumble is best served warm or at room temperature.
When strawberries are fragrant and plentiful make this strawberry crumble. It's best serve with lots of friends, cream or ice-cream (or all three).
Method
Method
Place oven wire rack on shelf position 3 and preheat oven on Top / Bottom heating at 170⁰C.
Place the strawberries into a mixing bowl with caster sugar, vanilla, juice and lemon juice. Pick the mint and basil leaves and tear roughly. Add the leaves to the strawberry mix and add the liqueur. Place into a 3 litre capacity oven proof dish.
Place all of the dry ingredients in a bowl and stir to combine.  Add the melted butter and mix to make a crumb. Sprinkle crumb topping over the top of the strawberries and bake in the oven for 45 minutes or until golden brown
Notes
Oven temperatures are for conventional; if using fan-forced (convection), reduce the temperature by 20˚C. | We use Australian tablespoons and cups: 1 teaspoon equals 5 ml; 1 tablespoon equals 20 ml; 1 cup equals 250 ml. | All herbs are fresh (unless specified) and cups are lightly packed. | All vegetables are medium size and peeled, unless specified. | All eggs are 55–60 g, unless specified.
Authors Bio:
Warren is a chef with over 20 years of cooking experience, ranging from Michelin Star Restaurants to 5 star Hotels. He is highly passionate about embracing technology to create food that is visually stunning, tasty and packed with a whole lot of nutritional goodness.
More from this author