Back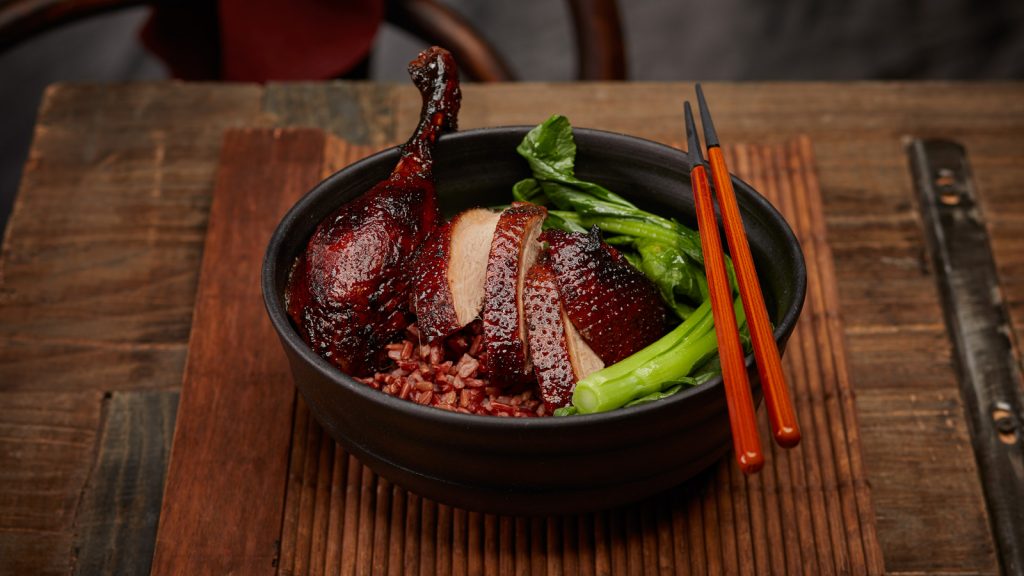 Serves:

2-4

Prep time:

15 minutes

Cooking time:

1 hour 40 minutes

Resting Time:

15 minutes

Level of Difficulty:

medium

Cuisine:

Asian

Function:

FullSteam, CircoTherm® and ComfortFlex®
Ingredients
| | |
| --- | --- |
| | 1 x 2kg whole duck |
| | 1 tbsp Chinese five spice |
| | 2 tsp sugar |
| | 2 tsp fine salt |
| | 1 knob fresh ginger, thickly sliced |
| | 4 garlic cloves, crushed |
| | 4 spring onions, cut in half |
| | ½ orange, cut into wedges |
| | 1 tbsp rice vinegar |
| | ½ cup (125 ml) honey |
| | ½ cup (125 ml) soy sauce |
| | 2 cups red rice, rinsed |
| | 1 bunch bok choy, washed |
| | 1 bunch choy sum, washed |
We use Australian tablespoons and cups: 1 teaspoon equals 5 ml; 1 tablespoon equals 20 ml; 1 cup equals 250 ml. All herbs are fresh (unless specified) and cups are lightly packed. All vegetables are medium size and peeled, unless specified. All eggs are 55–60 g, unless specified.
Duck is notoriously fatty, so this method of steaming first removes lots of the fat and makes the meat succulent. The final stage of cooking uses CircoTherm® to give a crisp skin and perfect result.
Method
Rinse the duck well and dry with kitchen paper. Combine five spice, sugar and salt and rub all over the duck, inside and out; stuff the cavity with ginger, garlic, spring onion and orange wedges.
Place the duck on the perforated tray and use a skewer to pierce the duck skin all over.
Set the oven to FullSteam mode; select 100°C and select 40 minutes cook time. Place an empty oven tray on the fourth shelf, below the duck, to catch any duck fat. Place duck on third shelf and cook; remove duck from oven. Remove the tray that contains all the rendered duck fat. Pour into a container and refrigerate or freeze for another use. Return oven tray to fourth shelf.
In a small pot over medium heat, mix vinegar, honey and soy; brush mixture all over the duck to coat. Set the oven to Circotherm®; 180°C and select 60 minutes cook time.
Place duck on third shelf and cook, basting every 15 minutes until the duck is lacquered and deep brown in colour.
Meanwhile, place rice in medium saucepan with 4 cups cold water; bring to the boil; reduce heat to low, place lid on pot and cook for 45 minutes, or until water is absorbed and rice is tender.
Remove duck from oven and rest, lightly covered with foil, for 15 minutes.
Set oven to FullSteam; 100°C and select 10 minutes cook time. Place the vegetables on the perforated tray on the third shelf and cook.
Serve the duck with the steamed greens and a bowl of red rice.
Notes
Red rice is a variety of rice that is coloured red by its anthocyanin content. It has a nutty flavour. It is available from Asian grocers.
Lift hot dishes like this twice cook duck safely and comfortably out of the oven using the NEFF innovative ComfortFlex® rails. The cleverly designed rails don't get in the way, so you can grasp the tray or dish from the side easily and safely. If fitted with changeable shelves, the rails can be moved around with ease and positioned in the oven at whichever of the four levels you prefer.

Find out more about ComfortFlex®
Authors Bio:
Caroline Velik is acknowledged as one of Australia's leading commercial food stylists and has worked with many of Australia's head chefs. As a food writer, she develops, tests and writes recipes, and has worked as Food Editor for a leading lifestyle magazine and as a regular, popular recipe contributor and columnist for a national newspaper. She is passionate about using fresh, seasonal ingredients to create delicious recipes that you will continue to cook again and again.
More from this author