Back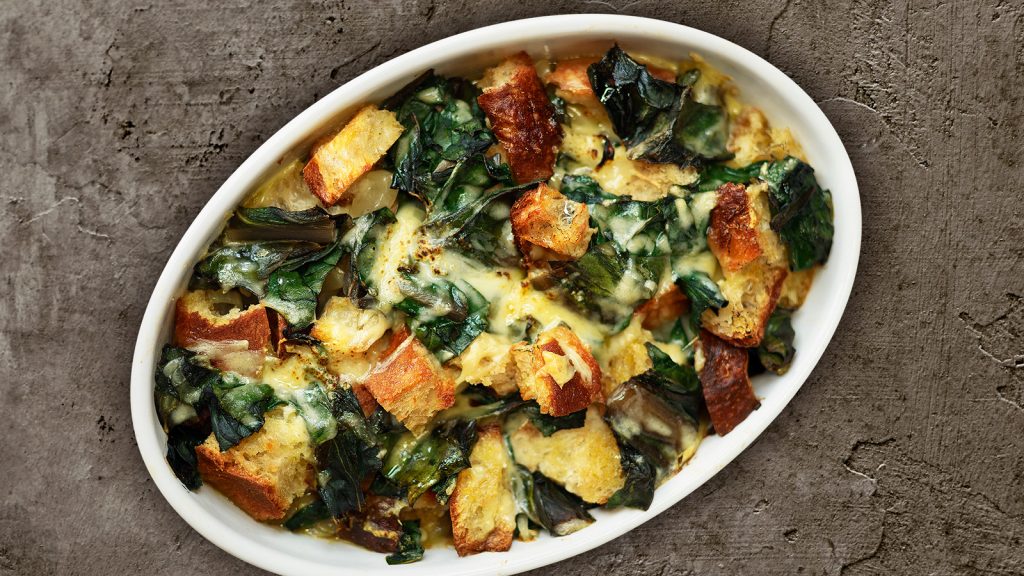 Serves:

4

Prep time:

40 minutes

Cooking time:

40 minutes

Level of Difficulty:

easy

Function:

Combination oven with microwave, grill
Ingredients
| | |
| --- | --- |
| | 1 green cabbage |
| | 320 g butternut squash, diced |
| | 350 g Jerusalem artichokes, peeled and sliced |
| | 2 leeks, peeled and sliced thinly |
| | 2 onions, peeled and sliced |
| | 300 g celeriac, peeled and diced finely |
| | 300 ml vegetable stock |
| | ½ tsp dried sage |
| | ½ tsp dried thyme |
| | Salt and pepper |
| | 1 baked baguette, torn into 2cm chunks |
| | 2 tbsp of olive oil |
| | 110 g Gruyere cheese, grated |
We use Australian tablespoons and cups: 1 teaspoon equals 5 ml; 1 tablespoon equals 20 ml; 1 cup equals 250 ml. All herbs are fresh (unless specified) and cups are lightly packed. All vegetables are medium size and peeled, unless specified. All eggs are 55–60 g, unless specified.
Easy to make and satisfying, a vegetable gratin really is ideal of entertaining. This dish is a great one to prepare ahead of time and can be easily adaptable to any season.
Method
Place prepared root vegetables into large lidded dish then sprinkle with thyme, sage, salt and pepper before pouring the stock over. Bake in combination microwave on 360 watts at 180 °C for 20 minutes.
Remove the dish from the combination oven, add torn cabbage, stir into mixture and cook for further 10 minutes. Meanwhile toss the baguette in olive oil, then spread over cooked vegetables and sprinkle with grated cheese.
Grill for 3 to 4 minutes on setting 3.
Notes
Feel free to substitute the root vegetables listed for any which are in season at the time, try your local farmers market for some veggie inspiration and get creative with your ingredients – there aren't too many limits with a dish like this.